Livolo Design Touch Switch | 1-pole | 1 Gang | 1 Hole | 12V/24V
Livolo | Design Touch Switch | 1-pole | 1 Gang | 1 Hole
Low Voltage: | 12/24V
---
We deliver Livolo without Livolo logo on the front plate. That looks much nicer.
Only the touch switch with the cherry wood front is exclusively with the Livolo Logo.
---


The elegant Touch Switch Eclipse (light / wall switch) features a capacitive touch (touch screen) in beautiful glass and nice sleek design. A slight touch is sufficient to operate the Touch switch / switch because it operates on the basis of capacitive sensor technology. In the Touch Switch Eclipse, a blue LED lights up for orientation in the dark, when you touch the touch switch display, the blue LED will jump to red so you can see that the Touch switch is turned on. The switch is easy to install in the place of the old switch. The size of the switch's base is exactly the same.
---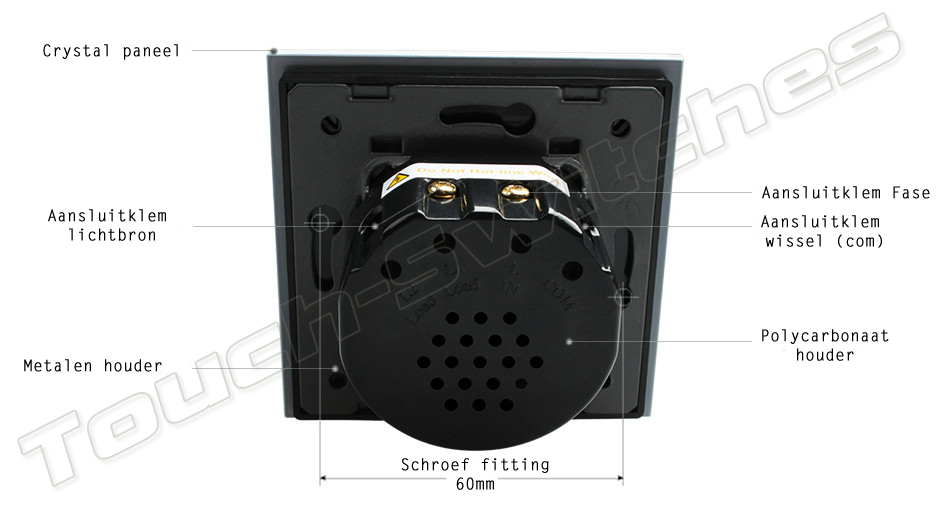 Connections:

The touch switches feature a glass touch panel in combination with the touch module. The touch module is securely hidden in a polycarbonate holder together with a metal plate that has 2 screw fittings so that it is easy to install on an existing built-in box.






---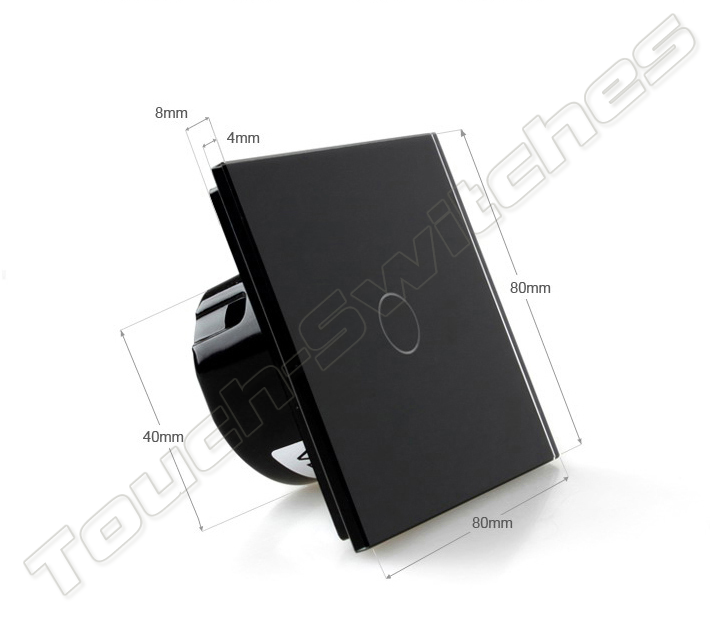 ---

Content:
Touch Switch Eclipse
2 mounting screws
English manual
---
To install: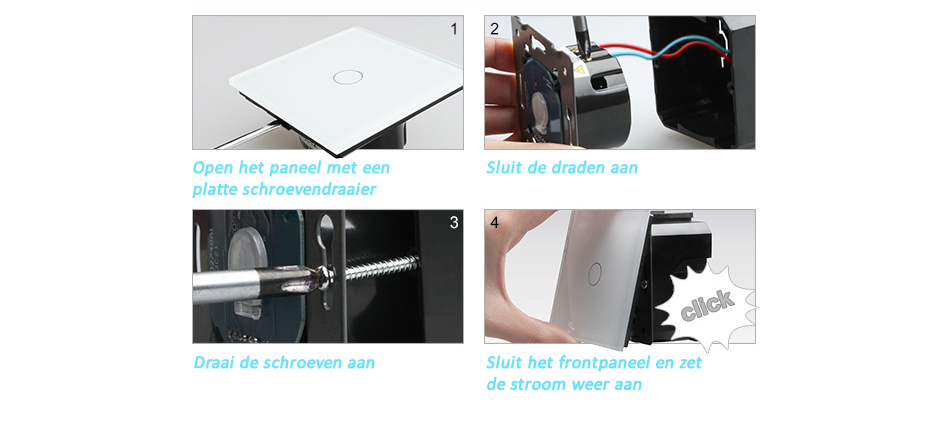 ---
| | |
| --- | --- |
| Type: | 1 Gang 1 Way |
| Way of Dimming: | Not dimmable |
| Minimum load: | > 1 W |
| Maximum Load : | < 1000 W |
| Maximum Ampere: | 5A |
| Voltage: | 12/24V |
| Energy Consumption: | < 0.1 mA |
| Dimensions: | 80 mm x 80 mm x 40 mm |
| Rendering: | Blue / Red LED |
| Environment temperature: | -30 To 70 ° C |
| Humidity: | < 95% RH |
| Longevity: | > 100.000 x |
| Warranty: | 2 Year |